Honor Band 3
The Honor Band 3 has a slim profile which means it doesn't look like an alien hugging your wrist. The tracking unit is integrated into the band, not a capsule that pops out. You can wear it with your casual or formal attire and it won't stick out conspicuously – at least the black version. It's also available in orange and blue, but you can't swap bands so be sure to choose the one you like most. The band is pretty comfortable to wear with the exception of the clasp.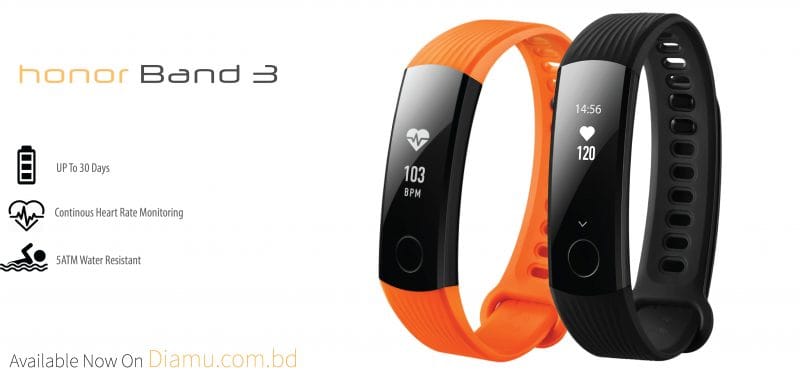 There's one button below the screen to switch between the number of steps taken, distance moved, and other information. The display is pretty good in most conditions but we had trouble reading text under strong sunlight. The Honor Band 3 uses a proprietary clip-on charger and while it works just fine, we wish that all of these companies would agree upon a standard and use that. If you lose the clip-on charger, it's going to be tough to find a low-cost replacement.
The Honor Band 3 works with both Android and iOS via the Huawei Wear app. We had no trouble pairing the device with the app, and syncing was quite smooth too. The Huawei Wear app looks nice and does a fairly good job of showing your activity data. We would have liked a month-by-month view to see all of our workout data in a chart or a graph, but that aside we didn't have any major complaints. It has Apple Health integration on iOS, but syncs with an app called Huawei Health on Android instead of Google Fit.
The best feature of the Honor Band 3 is its battery life. Huawei claims that the device lasts for 30 days on a single charge and that could very well be true. Our review unit's battery level was 75 percent after one week of heavy use, which is excellent considering that the device also alerts you when people call, and shows notifications from various apps. Notifications show the name or number of the person calling you, depending on whether you have them saved in your contacts list. Text message alerts and notifications from third-party apps such as Telegram show one line of text at best. This is standard for this kind of a device. The Honor Band 3 lacks an always-on display but you can raise your arm or tap the button to wake it and check the time, which means it's not always useful as a watch.
We do not sell any replica products. We believe in quality. Not in quantity.
Call for any enquiry: +8801798740472; +8801752771463; +8801798740523